Phase lock loop (PLL) enables us to detect the shift of input signal frequency. In general heterodyne is used to match the input signal frequency to the center frequency of VCXO in PLL as shown in fig1.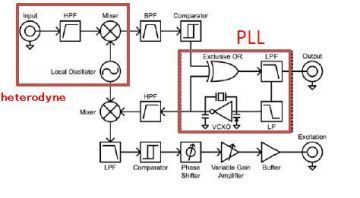 One of the applications of PLL with heterodyne is frequency-modulation atomic force microscopy (FM-AFM). FM-AFM has been widely used as a high-resolution imaging and analysis method for various materials. The resonance-frequency of a cantilever is modulated by the force between the cantilever probe and the material surface. For FM-AFM, PLL of high sensitivity (Volt/Hz) and wide detectable frequency range is ideal, while the detectable frequency range is inverse number of the sensitivity. Fig 2 shows PLL output voltage (FM-out) with fixed local oscillator frequency in heterodyne. PLL output voltage is linear around the center frequency of VCXO, however it becomes non-linear when the shift is large.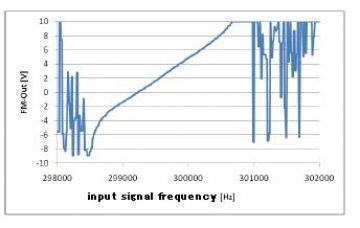 To overcome the above issue, the method to adjust local oscillator frequency has been introduced. By providing a feedback circuit shown in fig3, which works to send command signal to the local oscillator circuit to step up the frequency or down it, when the FM-out voltage exceeds its threshold, e.g. +2 volts or -2 volts. Fig4 shows the FM-out voltage, local oscillator frequency and calculated frequency deviation of input signal.


As shown in fig4, it is possible to realize the frequency shift detector of wider detectable frequency range with linear output by the introduced method.