What is RSS?
RSS (Really Simple Syndication) is a notification system which enables subscribers to know about changes made to their favorite websites. This means that it is no longer necessary to check your favorite sites one by one to look for new articles. Using RSS, you can be instantly informed about which websites have new articles. There are no special requirements needed to use RSS, because most web web-browsers (for example, Internet Explorer 7, Firefox, or Safari, etc.) already have the RSS function (note: IE6 does not have this function). Updated content will be delivered to your browser as a "feed" (a headline with a link; you can jump to the full article from the link). But please note that RSS can only be used for websites which offer the RSS service. At present, not all websites have RSS feeds. Our site utilizes this useful RSS technology.
How do I use it?
Please take a look at the following screenshot of our RSS page.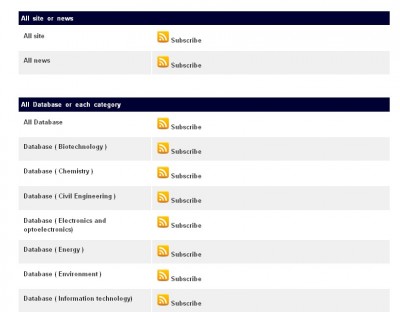 As you can see, there is a small orange button for each category. This orange icon is a common symbol for RSS. You can subscribe to any feed you like by clicking each RSS button

. Once you click on the button, the procedures which follow will vary depending on the browser you are using:
[For Internet Explorer 7]
1. When you click the RSS button, you will jump to a feed page. Click

Subscribe to this Feed.


2. A dialogue-box will open, which prompts you to type a name (whatever name you like) for the feed.

3.Enter the name and click Subscribe. Your subscription is then complete.
4.To view your feeds, click

Favorite Center, and then click

Feeds. You can view all the feeds to which you are subscribed.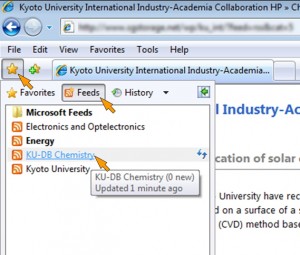 5. By positioning your mouse over each feed, you can see how many articles have been updated, and when.

[For Firefox]

Firefox allows you to subscribe to feeds by using "Live Bookmarks."
1. When you click an RSS button, a prompt will appear, asking you to click Subscribe Now.

2. An Add Live Bookmarks dialogue box will then appear prompting you to name the bookmark and select a location. Enter the information and click Add.
3. Live bookmarks are placed in the same menus as other bookmarks, but can easily be distinguished from other bookmarks as they feature the orange RSS icon.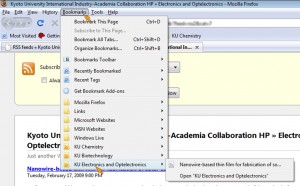 4. By placing live bookmarks on your bookmark toolbar, you can easily view feeds with a single click.

[For Safari]
1. When you click an RSS button, you will jump to a feed page. If you click "+" (Add a bookmark for the current page) on the left of the URL address bar, a dialogue box will appear.

2.Enter the information and click Add.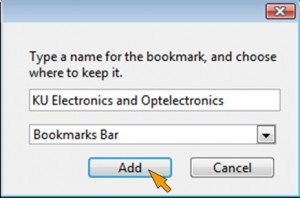 3.The new feed is then added to your bookmarks bar and you can view feeds with a single click.

4.Adding an RSS feed to your bookmarks enables Safari to automatically find out if that website has an accessible feed and if so the Safari bookmarks manager will place it under "All RSS Feeds." You can see all of your RSS feed subscriptions by clicking the "Show All Bookmarks" button and then "All RSS Feeds" button. In Safari, RSS icons are blue, not orange.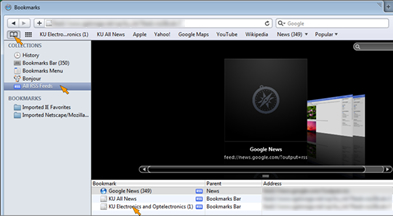 About RSS Reader
An RSS feed reader is an application that runs in the background of your browser, searching for updates, and delivering feeds. Besides the web-based RSS reader in your browser, there are various other RSS readers (for example, Google provides the Google RSS Reader, and Yahoo provides My Yahoo). Once you become familiar with RSS, you will be able to select your favorite RSS reader and customize it to suit your needs. Reader options are available on our RSS for Advanced Users page.
・Go to RSS feeds (simple settings) page
・Go to RSS for Advanced Users page
If you are interested in RSS and want to know more about it, please refer to http://en.wikipedia.org/wiki/RSS.